OLS Hotels
reservations
Best Rate Guarantee
When You Book Direct
We're a technology
and analytics company

(that happens to know a lot about running hotels)
EXPLORE

WHAT MAKES US TICK

At OLS Hotels & Resorts, we're left-brain thinkers with a passion for right-brain creativity. In other words, we navigate a world of hard-core stats and high-tech analytics while never losing sight of what makes a hotel really memorable. Every guest interaction, every marketing campaign, every room is blank slate for our creative solutions. The result? A blueprint for profit and performance fueled by passion.

Learn More
COAST-TO-COAST


COMFORT AND STYLE

From branded hotels to boutique properties with a style all their own, the OLS Hotels & Resorts portfolio comprises 18 gems in sought-after spots like San Francisco, West Hollywood, Las Vegas and Orlando.
Human Resources Management
SUCCESS

STARTS HERE

Harnessing more than 30 years of market intelligence and deep insight into both branded and non-branded hotels, OLS Hotels & Resorts offers the full spectrum of hotel management services. Allow our team of 1,000+ experienced and engaged pros work their magic by tapping the industry's best practices in accounting, human resources, operations, and revenue management.

Learn More
"OLS is a family oriented company with entrepreneurial spirit. It is a passionate hotel organization that has the ability to drive results in all economic climates. It believes in human development so that it is well positioned to take over or develop new properties as opportunities arise. The strength of OLS can be seen by observing the loyal team of veteran hoteliers who have spent decades with the organization."



- Ira Kleinrock, Le Parc Suite Hotel
OLS IN THE

NEWS

Barry Podob, Director of Sales & Marketing at Le Parc Suite Hotel in WeHo, was honored with a Lifetime Achievement Award by the LA & NY Trade Show in October. No stranger to awards, he's been voted "Top Dog Entertainment Hotel Salesperson of the Year" by 10,000 music industry professionals for five of the last six years.

See all News
Demetrius Shipp Jr. Has the Hardest Job in Hollywood - Playing Tupac
An interview and photoshoot with Demetrius Shipp and Complex Magazine at The Chamberlain!
Continue reading
Danielle Campbell's The Bloom
Shot at The Chamberlain Hotel West Hollywood
Continue reading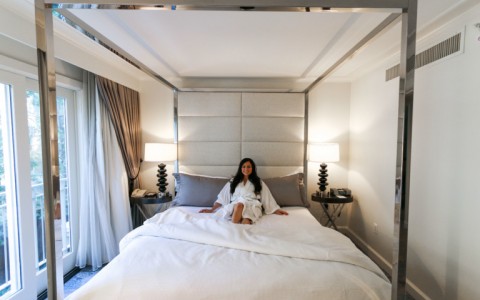 5 Reasons to Stay in Burbank, California - the REAL Hollywood
I stayed at the boutique Hotel Amarano in Burbank and booked via Visit Burbank.
This is the hotel where many of the guest stars for the Ellen Show and Conan stay.
Continue reading